The Top Five Boating Safety Gear Recommendations for National Safe Boating Week
Posted on May 24, 2021
ACR Electronics, world leader in safety and survival technologies, is supporting the annual National Safe Boating Week by providing useful information and highlighting the way new marine technology can contribute to a fun and safe summer for people out boating and fishing with friends and family.
With over 65 years of experience in developing cutting-edge rescue beacons and innovative survival equipment, ACR Electronics is sharing its expertise with five recommendations for boaters when equipping their vessels and life jackets to effectively increase their safety while boating this summer. By investing in the right safety technology for boats, captains can provide peace of mind to everyone onboard and back at home that they are prepared for an emergency out on the water.
Boating Safety Gear Recommendation Number 1 – Get an Emergency Position-Indicating Radio Beacon (EPIRB) and/or Personal Locator Beacon (PLB)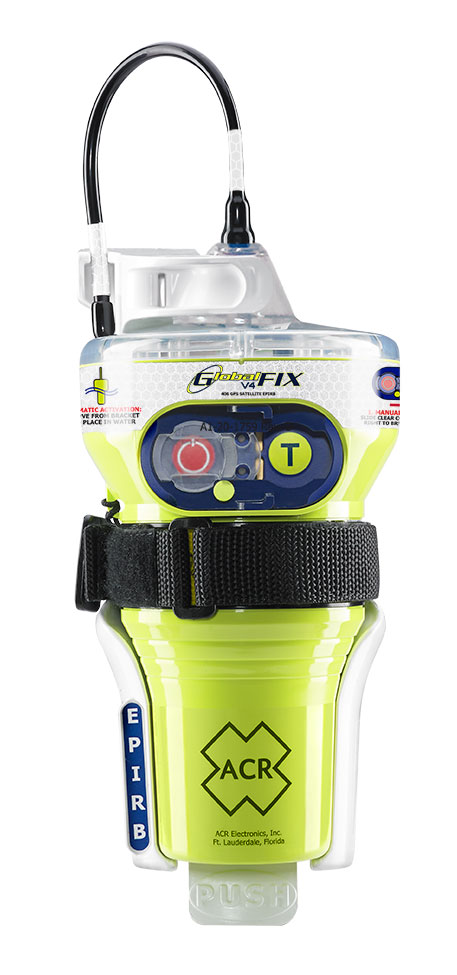 Every boater should carry either a Personal Locator Beacon (PLB) or an EPIRB (Emergency Position-Indicating Radio Beacon) – ideally both, as multiple beacons activated at the same time during an emergency raises the criticality of the distress with Search and Rescue. Each boat should be equipped with either a float free or manual release EPIRB and lifejackets should have a PLB attached. These beacons use the Cospas-Sarsat International Satellite System and 406 MHz technology to tell Search and Rescue agencies like the Coast Guard who you are, where you are, and that you need help immediately.
Beacon owners should always make sure the registration is correct and up to date, self-test their beacon and become familiar with its operation, train crew and family on how and when to use an EPIRB or PLB, and store the EPIRB somewhere easily accessible in an emergency.
Top products: ResQLink View PLB and GlobalFix V4 EPIRB
The ResQLink View Personal Locator Beacon provides more features and functionality than any PLB. A new digital display shows all the beacon's operational activities, including live status, GPS coordinates, operating instructions, usage tips, transmissions bursts and battery power. Using feedback from ACR SurvivorClub program members, the buoyant ACR beacon includes a protected activation button located away from the test button for easier use in an emergency, plus it comes with multiple mounting options including a belt clip, attachment strap, and oral inflation clip. The ResQLink View is the only PLB to incorporate a new infra-red strobe light in addition to the ultra-bright LED strobe light. It utilizes a new multi-constellation GNSS receiver to download location faster using both the GPS and Galileo satellites.
The award-winning GlobalFix V4 EPIRB is available in both Category 1 Auto-Deploy (GMDSS) and Category 2 Manual brackets. Features include a user-replaceable battery pack which has a 10-year replacement interval, reducing the overall ownership cost. It also has an energy efficient, four LED array strobe light and a wrist strap for hands-free carrying in an emergency evacuation. Manual activation of the EPIRB is simple and there is a protective keypad cover to help prevent false alarms. The GlobalFix V4 has two functional self-tests to monitor the beacon's transmission, power and battery performance and GPS acquisition.
Boating Safety Gear Recommendation No. 2 – Invest in a Wireless Engine Shut-Off System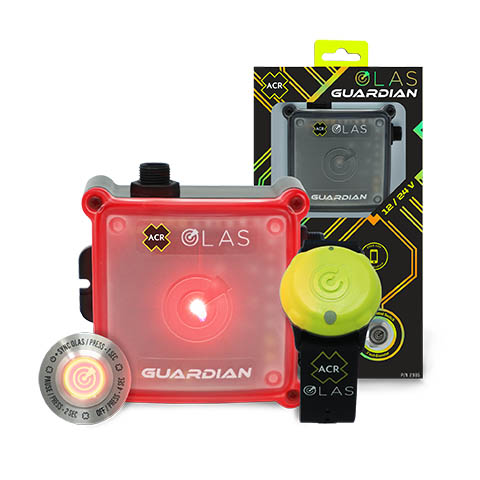 A new U.S. Coast Guard boat engine shut-off switch law came into effect on April 1 requiring all drivers of recreational boats less than 26ft in length to have an engine shut-off switch (ESOS) with a lanyard or wireless link attached to the operator. Affecting millions of boats, the rule applies to all federally navigable waterways and any vessel that has a functioning engine cut-off device installed at the helm or on an outboard engine or has wireless ESOS, or boats manufactured beginning January 2020. Exceptions to the ESOS requirement include if the main helm of the vessel is in an enclosed cabin or the vessel is not operating on plane or at displacement speed. Low-speed activities such as trolling, or docking do not require use of an ESOS. The vessel operator is also exempt if the boat's motor produces less than 115 lbs. of static thrust – or about the size of a 2-HP engine.
Top product: OLAS Guardian
Offering a solution to the new regulations, the ACR OLAS Guardian is a wireless ESOS and also a man overboard alarm system. Creating a virtual shut-off cord, the ACR OLAS Guardian wirelessly connects up to 15 family members via wearable ACR OLAS transmitters so everyone can move freely around the boat without the constraint of a physical wired shut-off cord. The Guardian system will stop the engines within two seconds of a person, or pet, going overboard when an OLAS Tag or Float-On light loses connection and will also trigger a loud 85db alarm, alerting everyone onboard of the emergency, or, if boating alone, reducing the chances of a serious accident from an unmanned, uncontrolled vessel.
Boating Safety Gear Recommendation No. 3 – Buy an electronic flare
More boaters are choosing to make the switch to newer marine Electronic Flares (E-Flare) in order to make their boats safer. These new E-Flares last for more than 20 hours, versus a few minutes for marine flares and they do not pose the threat of the dangerous flames accidentally puncturing a hole in your inflatables life jackets or rafts, or even accidentally burning the user. Electronic Boat Flares are safe for the family to handle, there are no expiration dates, they are easy to buy online with no hazmat shipping fees and they are easy to dispose of and safer on the environment.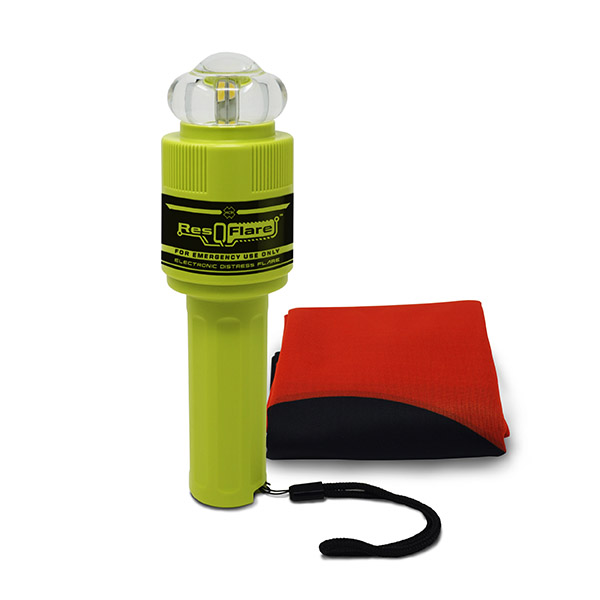 Carriage of an electronic marine E-Flare and Distress Flag together allows boaters to forego the requirement for traditional marine pyrotechnic flares, when on vessels up to 65ft in length, boating on the Great Lakes, within 12 miles of US waters, or on any body of water with a passageway to the sea at least two miles wide.
Top product: ResQFlare Electronic Distress Flare
Providing U.S. recreational boaters with a safe, convenient and cost-effective signaling solution, the high intensity LED ResQFlare Electronic Distress Marine Flare and accompanying daytime Distress Flag is a complete package which meets U.S. Coast Guard requirements allowing them to be carried as an alternative to traditional pyrotechnic flares.
Significantly enhancing the chance of survival and rescue by emitting the flash characteristic for the International Morse Code for S-O-S, the waterproof and buoyant ACR ResQFlare automatically rights itself in the water, providing 360˚ visibility for over six miles. The marine distress flare's high efficiency electronics ensure a substantial operational life, with the LED strobe maintaining 75 cd peak equivalent fixed intensity for over 20 hours, which is more than three times longer than USCG requirements. Compact, lightweight and easy to operate, the ResQFlare features a durable design and a user replaceable battery power source, ensuring it is a one-time purchase that will provide many years of service.
Boating Safety Gear Recommendation No. 4 – Add lights to your life jacket
When Search and Rescue arrives on the scene, it is vital that a survivor can get the rescuers' attention, which can be especially difficult at night or in poor visibility. A lightweight and slim marine strobe light or survival light attaches easily to a life jacket and activates automatically on contact with water, operating for several hours. For daylight hours, it is also recommended to carry a signal mirror or distress flag to gain attention.
Top products: C-Strobe H20 and HemiLight 3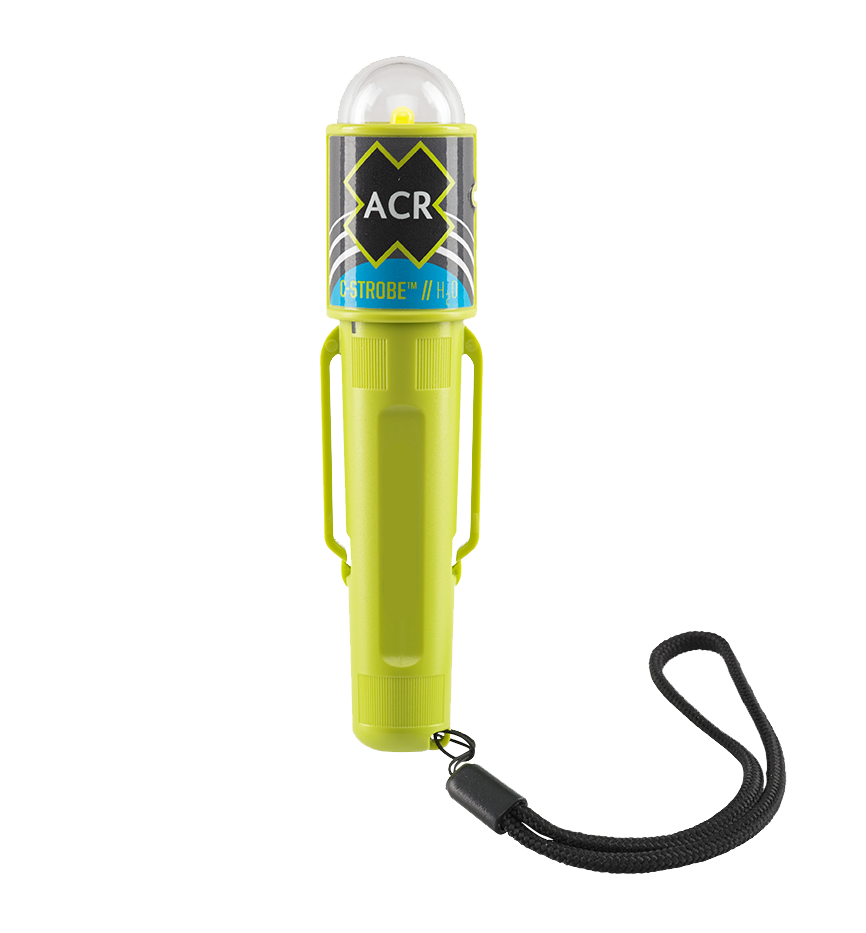 With 3 modes of operation (strobe, steady-on, SOS), the USCG/SOLAS approved C-Strobe H2O boasts a 45 lumen LED that typically operates for 120 hours continuously when in strobe mode. The light can easily be activated with a simple push of the on/off button or when submerged in water.
The ACR HemiLight 3 flashing marine survival light attaches to almost any style life jacket with a quick and easy installation. Smaller than other approved lights, the HemiLight 3 features rounded edges to maintain the integrity of inflatable life jackets and meets USCG, MED and SOLAS requirements. The high-intensity flashing LED light automatically activates for 20+ hours when it comes in contact with salt or fresh water, and can be deactivated simply by pushing the red button.
Boating Safety Gear Recommendation No. 5 – Harness the benefits of AIS technology
Automatic Identification System (AIS) was originally developed to allow ships to view marine traffic in their area and to be seen by that traffic, primarily to enhance safety and collision avoidance. However, this flexible technology and the information it provides can now offer a range of benefits for leisure boaters. AIS is a maritime navigation safety communications system providing vessel information such as identity, type, position, course, speed, rate of turn and navigational status to appropriately equipped shore stations and other ships and also receives similar information. Class A and Class B transponders send and receive wireless data to and from nearby AIS-equipped vessels every two to ten seconds. Other information such as the type of vessel, destination and ETA are also sent out. The data can be displayed on modern chart plotters making them more dynamic with approaching marine traffic information.
Top product: AISLink CB2 Class B+ AIS Transponder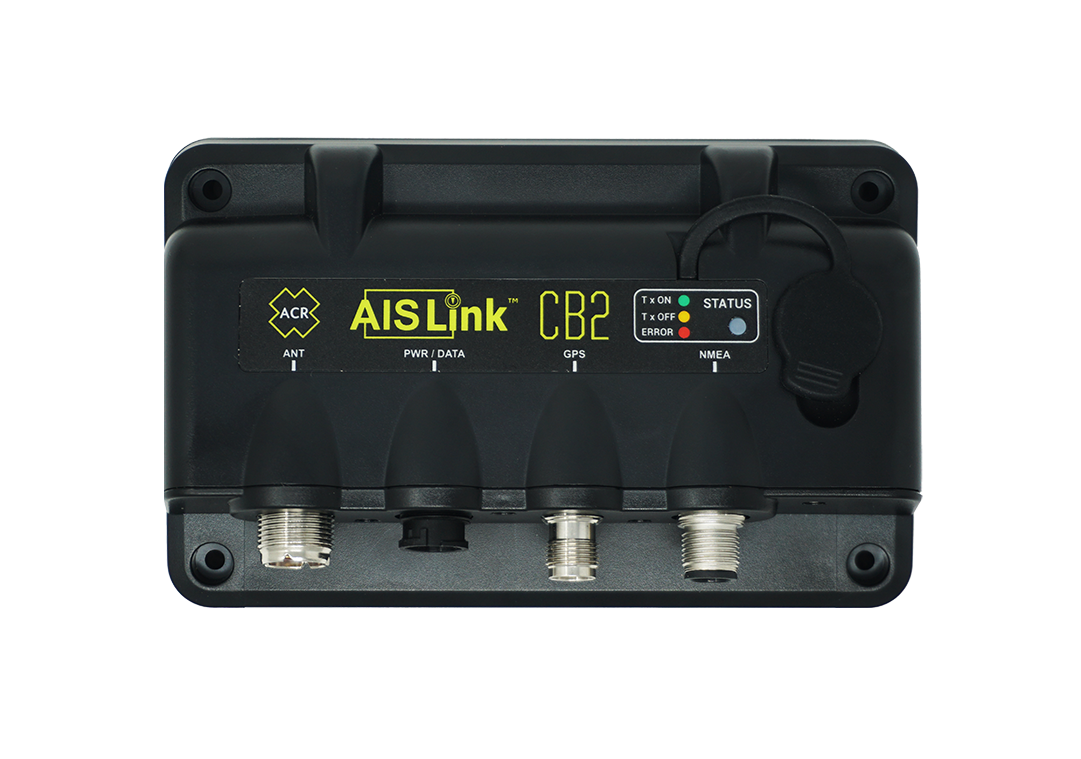 The advanced Class B+ AISLink CB2 AIS system is designed to offer boat owners increased visibility and navigational safety. Incorporating the superior SOTDMA (Self-Organizing Time Division Multiple Access) technology that is used on commercial marine AIS units, the CB2 offers significant benefits including increased priority for position reports with no loss or delay of transmission, enhancing the user's ability to be seen by other vessels in busy waters and avoid collision day or night whatever the conditions. It has a faster reporting rate and higher output power than standard Class B units, sending AIS messages every five seconds instead of the two transmissions per minute with traditional class B systems. The unit's 5W output power, compared to the standard 2W, allows for broadcasting to a larger area for improved visibility. With Wi-Fi, USB, NMEA 0183 and NMEA 2000 connectivity, the CB2 is easy to install and use.
The CB2 can be used in combination with an AIS man overboard beacon, such as the Ocean Signal rescueME MOB1. Easily integrated within a life jacket, the compact MOB1 communicates with the CB2, as well as boats within a five-mile range, and will provide two methods of rapidly relaying the man overboard's position in an emergency. First, it transmits an alert to all AIS receivers and AIS-enabled plotters in the vicinity. Secondly, the MOB1 will activate the DSC alarm on the vessel's VHF radio to alert fellow crew members.
Do not forget to Prepare Like a Pro.
While all the safety gear required for your boat by the coast guard is essential, ACR Electronics urges boaters to spend some extra time during National Safe Boating Week to check all your safety gear to ensure it has not expired, does not require a battery replacement, and that it is still in good condition. It is also a good time to plan and practice an on-the-water ditch plan with a key focus on making sure all of your safety gear is located in one easy-to-grab location. Lastly, make sure you have the right safety gear that is going to help you avoid needing to be rescued, but also will pin-point your location and broadcast it quickly to help get you rescued faster.
In partnership with the U.S. Coast Guard, the National Safe Boating Council's Safe Boating Campaign recommends all boaters wear a life jacket. It also advocates that boaters should have at least two communications devices with them when on the water that work when wet. Satellite phones or 2-way messengers, Emergency Position-Indicating Radio Beacons (EPIRB), VHF radios and Personal Locator Beacons (PLB) are recommended as cell phones are not reliable in emergency situations.